Yay! I finished the wrap I was making for Italy. And only two days before too. And so I give you (with many pictures) my first every attempt at lace, blocking, buttonholes, and knitting with wool:

Media: US7 circular needle, 10 buttons, 1 and 1/2 skiens of Rowanspun 100% wool and my little brother's spare bunk mattress for wet blocking.


The wrap: 50 inches x 12 inches



Close-up of the lace pattern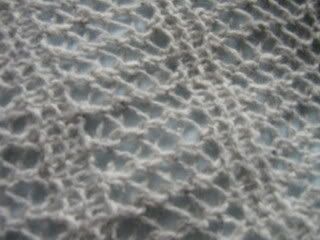 Close-up of the buttons, not that they photograph that well



Pre-block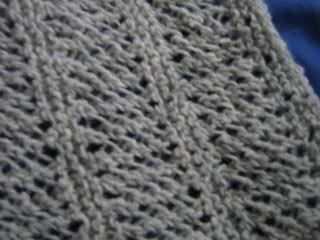 So yeah, I'm pretty pleased. It came out much better than I expected, although my blocking isn't great. Still, I'm only a beginner - it'll get better with practice.

My work in progress is Knitty's Tempting, which I also hope to have finished before leaving, just because I have another wrap in the works for a friend's birthday.

Media: US8 circular needle, 3 balls (so far) of Rowan cashsoft yarn in grey


The almost-completed body and sleeves. The colour is pretty good on this one.